Starting with a Rare Laser red 3 door 2001 Viggen it has been quite a project to transfor this into a beast that is as happy lapping at the track as it is running to the store.
Just sarting to consolodate all the project cars in one place. Seems like there is always something to tinker with.
The old troll tuner pages LINK http://trolltuner.com
Some cool youtube videos of it. YouTube Will work on more.
12.4 1/4 on the gt2871 turbo! Full street tune with slicks.
---
Will be updated on the trolltuner site.
March 09: Viggen gets hand me down tires from the -04 Aero 225Kumho MX lasted under 3000 miles. ;)
Jan 2009: More texture black powdercoat on the underhood parts. In the intrest of making the car look opem under the hood I have been working on aluminum hardlines for the turbo coolant. It also got a new strut bar more of a basic design we tried but did't like for production.
Fall 08: Rear hatch brce to eliminate some of the body flex that comes from runing stiff suspension on this less than ideal chassis.
Fall 08: While painting the new rear spoiler I sent over the grille to get it matched to the red. Leaving the cross bar chrome gave it an interesting look. Theres a pic in the gallery.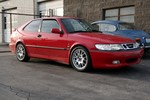 500Hp 500Ftlbs Flex fuel with AC what else is there to say.. Dyno | The rest
---
Chassis:
1" Rear sway bar
SE front bar
Custom Rear springs
Front Coilovers
Koni Sport Shocks
Poly bushings w Upgraded bolts
6-point subframe brace
Custom strut brace
Steering rack brace/clamp
225/40-18 Kumho MX
18" BBS CH Wheels (w Saab center caps)

Gearbox:
Aluminum Flywheel
Spec Pressure plate
Stg3 Spec clutch disk
Reinfoced Step1 Gearbox by Nick
Quaife LSD
Poly Engine / Trans mounts
Diesel rear mount

Body:
Ralcar Spoiler top
Hatch brace Texture Black
Alpine Stereo W sub and steering wheel controls
Innovate wideband in Headlight sw hole
Factory carbon dash face and shifter insert
Blue alarm Led
Color matched front grille
E-code front lights

Engine:
2.3L Stock crank
90.0mm JE pistons
Balance shafts removed/plugged
264 9.6 cams
no porting
Top mount manifold
Gt2871.64 Turbo T25 Internal WG/ Gt3071.64
Intercooler
Open air intake
-007 Forge BOV with Softest Spring
750cc High resistance Injectors
255 Walbro In tank
Custom Biopower Nordic / Taliaferro tune
7200 Rev limit
3" Complete exhaust with modular rear muffler/ straight pipe w v-bands for quick track setup.

There are certainly little tricks that are missing ;) I hope to explain the "Why" on the parts too in time.