This has been my Second car, the first was a vanilla C900 4 door red for about 1 day, I passed! This one was on one of our used car lots I fell in love. Still probably my favorite car (Till the heat comes and AC is lacking) Best part is showing up at an autocross in this and RUNNING, when there are many other capable cars to run. It was a blast. Image Gallery

Power: 110hp
Fuel: Gas


An Old gallery too over on TrollTunerIt was a little prettier back then.
---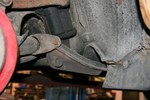 March 09: There has been a bit of interest in the sway bar I built over 10yrs ago for this car. We made a baby one for the racecar too. Should be working on a few of these maybe in kit for and completed soon. If you want one email us.
March 09: Airbagged the rear after cutting the springs a little too much.. ;) Yeah I know but call H&R and get some lowering springs for a 72 wagon.. The arbags in the rear worked out very nicely. The car rides great and still handles sweet. Now to sort a pump/control system sinc the old reused coneectors have slow leak.

Nicks -72 95 Wagon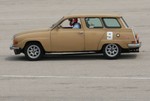 Decently fast and very ugly! Image Gallery
March 11th Airbags first operation!
---
Chassis:
1" Tubular Rear sway bar
Custom Rear air springs
Revalved rear lever shocks
Bilstein fronts
Added Oem front bar
Front springs cut, airbags in the works.
Boxed front control arms.
Factory motorsports front spoiler
Chrome trim delete (Thanks rust)
4-bolt hubs
2 Piston front brakes
C900 Master cylineder conversion (No booster)
EBC green pads
15" Ronal Wheels
195 P6000 Tires

Gearbox:
Lightened Flywheel
VW clutch plate
Freewheel Deleted
Volvo Engine / Trans mounts
Custom torque rod bushings

Body:
c900 Front seats
Stereo w sub
Custom front speaker pods

Engine:
Valves, Ported head
cam
weber 2 barrel
Header
MSD w rev limiter
Volvo Radiator (Overkill but free)
Peugot Cooling fan ( Has a cast alu mounting bracket)
Oil cooler with thermostat
Most of this car was built over 10 yrs ago so some details have been long forgotten.