Starting with a clean Black 3 door 1995 900 SE Manual the goal has been to see how fast we can go for the least amount of changes. So far its the fastest Saab down the 1/4 mile in america, drove it there and back even ran errands that sunday!
Power: ~540whp
Fuel: E85
1/4: 11.33@126mph Fastest and Quickest in America!
Best trap 130mph
Some cool youtube videos of it. YouTube
---
Made some new rear mounts and ditched the tubular suspension arms. Went back to stock arms with spherical innters and race urethane outers. More details on the http://trolltuner.com blog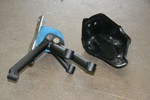 May 6 09: New transmission mount bracket prototype. Hopefully by utilizing 2 more mounting points over the original 3 we will eliminate bolt failure from the flexing of the stock bracket. It is constructed of varied wall thickness tubing for optimal strength to weight ratio. We should also have a new engine mount bracket kit ready soon. More photos in the Gallery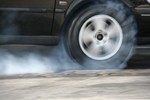 May 3 09: With no testing runs we went to the Import Faceoff in KC, Mo to run against the hondas ;) We qualified 7th out of a decently large field and get this with first run of 11.72 @127 and then followed it up with a 11.47 @127!! the only problem came when the shifter broke in the first round of eliminations and we lost. The 127.xx mph is 8,300 rev limiter in THIRD! Still this is a street car drove it in the rain with the tires and tools in the hatch.
We are going to need to build some more reinfoced parts to update what is on the car mostly the oem trans mount bracket is not ok with launching on 1.5bar with the slicks. The experience on the track will help us bring you tougher parts that work!
More in the GALLERY

May 1 09: Got a std gearbox rebuilt with all my tricks but std gearing. The newest addition was a Quiafe LSD. While we were there we added some rear Konis to help control my custom springs. Spent a little bit onthe dyno dialing in the new fuel we got twith the -044 pump but still it is not enough to feed the beast. it did make a little more power too ;) I saw better of 540whp.
April 25 09: First saab in the 12.04s and fastest at 122mph in north america. Still on 2.0L and with an open diff! Only the third pass in the car with slicks.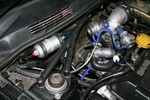 April 24.09: With the 1000cc injectors the single walbro 255 pump was not enough so we added a -044 bosch inline to boost the flow. It worked great however now we are making more power than before and still need to run the second rail with 4 more injectors. More on that later. The pump is powered with stock AC wiring so it is clean and no cutting to the harness. Triggered in parallel with the std fuel pump by nira.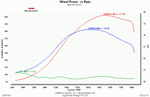 March 09: Since we were out of injector with the 750s by 5grand last time I wanted to see how far we could get with 1000s and the E85. Turns out the single walbro 255 was just not there for it. Starting with a base fuel pressure of 51psi it was sucked down to a difference of 35 by the end of a run. Not so good for atomization. We will stop here and just see what we can do with it at this level.
March 09:Worked out the tire size to be a little easier on the gearbox than the 26" tall tires most run. The stock cars use a 24-24.5" tire so a 26" just makes that much more leverage on the gearbox, not a good thing. Going with only a 8.5" wide 15" Slick that is closer to stock Diameters for nice gearing. Hopefully this combined with our 8000+ rev limit will make for a decently matched setup. It is on paper but we will have to see what the timeslip says. >> Big thanks to GOLDWING for some good used wheels for these new slicks.
March 2009: The car has been parked basically all winter since that drag strip outing in Nov.
Nov 08: Drag car runs 12.72 @114 first outing making it the fastest saab in north america on the drag strip with a little turbo and only a 2 liter motor. We lost the cooling fan on the way to and did not find it out till after the first full pass with coolant temp over 150c This had the benefit of helping seal up the little bit leaky head gasket! Nothing like hot lapping it at the drag strip with only the heater on high. This kept the temps about 120c. ;) Not quite ideal for power. But at least the chassis worked. Youtube Video in the left lane here, nice comments too.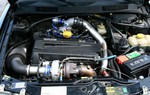 Fall 08: With the GT3071 .64 mounted on our top mount manifold the car seems to like this combo of hardware and
-95 900 2.0 Drag Car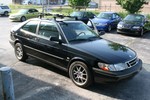 2.0 Liter drag car project is just getting started. You could call it a hot street car even though it is a bit much for running to the corner store. Image Gallery
11.47 @ 127 Mph
Shifter knocked us out in the first round. We had him.

March 7th Dyno, 8000+ rev limit! 511whp!
---
Chassis:
1" Rear sway bar
Custom Rear springs / Koni Shocks
Spherical bearing front control arms.
6-point subframe brace
Custom strut brace
Steering rack brace/clamp
15 x8.5 M&H slicks < Thanks John@M&H!
15" 9-3 SS wheels < GOLDWING

Gearbox:
Aluminum Flywheel
Factory Viggen Pressure plate
Stg3 Spec clutch disk
Hydraulic clutch conversion
9-3 -00 Gearbox and Driveshafts
Quaife F25 LSD
9-3 Shift linkage
Poly Engine / Trans mounts
Diesel rear mount

Body:
Rear seats deleted
Trunk carpet deleted
Hatch brace
Manual Cloth drivers seat
2.2 bar boost gauge

Engine:
2.0L Stock crank
90.5mm JE pistons Ceramic Coated
Balance shafts removed/plugged
276 10.4 cams
Head clearanced for cam lobes, no porting
Top mount manifold
Gt3071.64 Turbo T25 Internal WG
JT 3" Exhaust with 1 muffler
ETS Intercooler
Custom 2.5" delivery pipe
Dual -001 Forge BOV with Yellow Spring (1 up from weakest, holds easily the 28psi boost)
1000cc High resistance Injectors
255 Walbro In tank > Feeds Bosch -044 at the firewall
-6 Feed line from pump through new filter to stk rail.
Nira i3+ EMS
3 Bar map sensor, innovate Wideband
Plug and play harness t5 > Nira by Nick
Dual EGT and wideband lambda ports

There are lots of little tricks that are missing ;) You can see that it is not that far from your normal 9-3 mods just carefully selected for the best possible combination of performance and economy. I hope to explain the "Why" on the parts too in time.