Steel Gray 2004 9-3 SS Aero Spec with B207R and 6speeds. Goal: to make it a fun autocross / grocery getter that still has decent go. Used as an ongoing development platfor to test our parts before releasing them.
Power 320Hp
Torque: 350Ftlbs
Fuel: E85
---
March 09: Needing new tires for the viggen and this car needing more tire with the new power and no LSD yet we picked up some of the discounted Bridgestone R closeouts in a 245/40-18 this is a big sticky tire and works very nicely. These tires are even quiet, the Kumho 225 MX were quite noisy. No rubbing even with the 45mm HR lowering springs. Gallery Link
Feb 09: Fitted an upgraded factory turbo with bigger turbine and compressor wheels along with a 3in downpipe and 630cc injectors the car makes 320Hp and 350Ftlbs On E85 (Charts in Dyno page) on custom Nordic software tune on our dyno and Taliaferro hardware.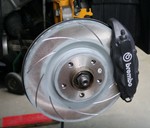 Dec 08: Brembo 314mm front kit. Looking for more pad choices while getting a bit lighter setup was most of the motivation here. I am reasonably pleased with them on the street pads, needs a little more aggressive pad for "track days" I even CNCd the matching grooves in them so they went with the rears. Gallery Link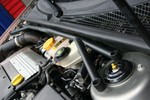 Dec 08: New strut brace to help with chassis stiffness. Made a nice difference so we offered this for sale. I chose the texture black powder paint for a low key oem look. It closely matches the plastic parts underhood. While there even coated the spark plug cover to match.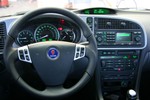 July 08: Custom Steering Wheel This is one we had made with added handgrips and perforated leather for a bit better grip. They turned out very cool. Nicer than the turbo-X wheels even. I almost wanted to try an get one with green and gray stitching to pull those colors from the dash but decided it might be over the top. More Info
I will add more of the early mods soon... Your feedback is welcome.

Nicks 9-3SS Aero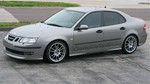 Just your average grocery getter. Dyno | The Rest
Engine:
18T Turbo Upgrade incl new turbine
Intercooler prototype
3" Downpipe
2-1/2" Catback
630cc Injectors @3.5bar
NGK BCPR7es-10 Plugs
Custom Nordic E85 Tune
Gearbox:
Spec Stg2+ clutch
Spec Single Mass Alu Flywheel
GS Short shifter

Exterior:
E-code rub strips
Wide angle Drivers mirror
GenuineSaab.com Branding

Interior:
Body matched dash face
Custom Steering wheel
Aux In
Bluetooth Handsfree
Homelink Mirrror

Chassis:
18" OZ Ultralegerra
245/40-18 Bridgestone Re01R
Poly Control arm bushings
3 Point subframe brace V2.
45mm HR lowering springs
Koni Sport shocks
Strut Brace
Brembo Brakes
I hope to explain the "Why" on the parts too in time.
---
Upcoming parts:
Mar/April: New Chassis parts that's all I can say. Some are on and others need a revision before production. Will also be tuned on Gas with this hardware for customer cars.
Long term: Swap to F35 5speed with Quaife LSD, Subwoofer, More interior mods..