The following is directly from saab cars USA and provided for your information.
Home | E-mail us
---
Service and Warranty Reference Library

Date: 12/20/02

To: All Saab Dealers
Saab Service Manager

From: Rich Miller

Code: 632

Reference: Addressing Customer Complaints of Popping Noise from Front Suspension, M1999-2002 9-3 Sedans, M1999-2003 9-3 Convertibles

A customer complaint of a popping noise heard from the front suspension on acceleration or decceleration should be addressed by re-torqueing
the front suspension bolts. Bolt #18 in the below drawing can be re-torqued using essential tool 89 96 894.

Proper torque for this bolt is 44 ft lb (60NM) + 90 degrees.

Note: The surface between the screw head and the stanchion must be lubricated with Vaseline before
re-torqueing.

Bolt #22 in the drawing below should be re-torqued to 81 ft.lb (110 NM) + 75 degrees.

For all other bolt torque specifications refer to WIS/9-3/Steering Linkage/Suspension Arms/Technical Data.

NOTE: Front suspension bolts must not be overtorqued. Bolts that have been overtorqued must be replaced.

Normal warranty times apply.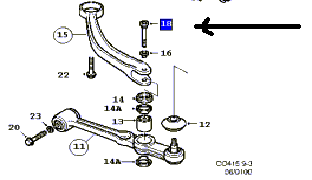 Thank you for your attention.

Sincerely,
Rich Miller
Manager, Technical Services Quality
Abe Buchbinder
Director, Product Quality & Service
Saab Cars USA, Inc.

Please direct questions concerning this document to: the Saab Technical Assistance Center at 1-800
Saab Dealer Assistance Center @ 1-800